Running in Pittsburgh
The best running routes in Pittsburgh are shown in the map below. They include running routes in Pittsburgh's three major parks: Schenley Park, Frick Park, and Highland Park; on the South Side, Eliza Furnace, and Duck Hollow trails along the Monongahela River, runs involving Washington's Landing on the Allegheny River, and road loops of all sorts throughout the city.
Two things about this list:
It's fairly CMU/Pitt-centric, with a few runs listed outside of this area.
It emphasizes trail running options. Pittsburgh has a rich variety of great trail running in its parks, so -- other than in winter -- why not?
Runs by Major Running Area in Pittsburgh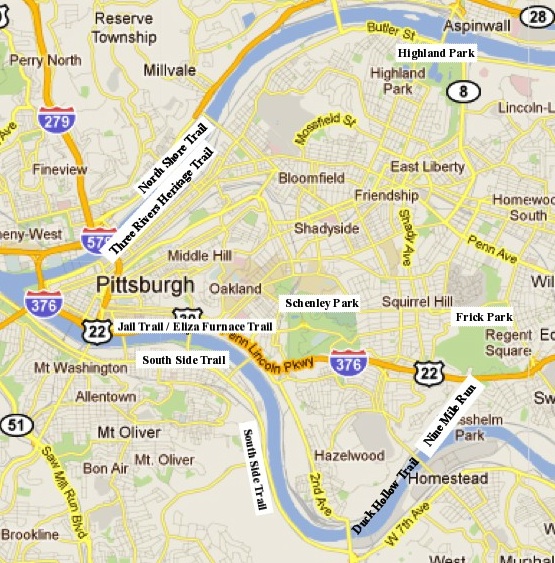 Urban runs in the east parts of the city - Oakland, Shadyside, Squirrel Hill, etc.
The road running in this area can be quite good, and is a little flatter than many other spots.
Facilities: Outside of the parks, facilities are more limited and less predictable. Friendly places to stop include the CMU University Center, the Pitt Cathedral of Learning, the east end's The Climbing Wall, and Whole Foods on Centre, Schenley Plaza, and Mellon Park.
Ellsworth-shady-darlington - Nice 6.7 or so mile loop. Ends on a road through Schenley that's not too well lit at night, but it's runnable. Moderate up and down (shady up, down through schenley

Getting there: Oakland/Shadyside/Squirrel Hill

Ellsworth-penn-5th - 4.2 mile loop. Basic and flat.

Getting there: Oakland/Shadyside

Ells-penn-shady-schenley - 6.1 mile loop, as above, but finishing down schenley drive. Less traffic than above - nicer route overall.

Getting there: Oakland/Shadyside

Jail Trail - Excuse me - the Eliza Furnace Trail. Not a scenic and lovely run, but a very useful connector to downtown: Connects the bottom of Junction Hollow (reachable through Schenley Park/CMU) to downtown via a no-cars-allowed running and biking path. Quite flat - good for tempo runs. Not plowed in winter, but often melts. See the pghtrails twitter account below to get winter trail status.
The South Side Trail - reachable from across the new pedestrian segment of the Hot Metal Bridge - is a scenic path with lots of trail and bike-friendly running. Here's a long run that goes south on the south-side trail. And here's one show a south-side trail link-up to the jail trail. I strongly recommend the South Side Trail over the Jail Trail unless you're trying to make a circle of the river and don't want to back-track. There's less vehicular traffic, more foliage, and a better view. And less exhaust from the freeway near the Jail Trail. Heading up-river takes you about 2.75 miles from the Hot Metal Bridge until a construction fence.
The North Shore Trail runs in segments along the north side. It's a good trail from Heinz Field to the 31st Street Bridge. On the south/west side of Heinz, it gets a little weird after the casino. On the north/east side of 31st street, it continues up for quite a few miles, but is spotty in times, and eventually turns into a railroad-only path. You can connect to a loop around Washington's Landing. If you bop over the 31st street bridge, you'll be back in the south side.
Schenley Park
Schenley Park [wikipedia], located near the Carnegie Mellon and University of Pittsburgh campuses, is a 456 acre park with enough running trails to easily squeak out 7 mile runs in the park alone, and more if you put your mind to it and don't mind some repetition.
Schenley, like most of Pittsburgh, is very 3-dimensional: many of the trails here can be connected at different heights - such as running out on the outer Bridle Trail, and then back up Overlook Drive. You'll barely know that you're only 100 horizontal feet from where you were running previously. Similarly, the Panther Hollow Trail on the north/northeast side of the park loops around on itself--not only are the two sides quite different, but the parallel Faloon Memorial Trail, 50 feet higher, is entirely invisible from the lower trail and vise-versa! Because of this, it's tough to give or follow great directions for running in Schenley, but the park isn't so large that if you get lost you'll be more than a mile or two from where you want to be.
Seasons: Great from spring through fall; in winter, conditions can range from great, to icy, to cross-country-skiable. Good choice for summer - you can find shade pretty reliably.
Water and toilets: Plentiful, see map below for a partial list. There is only one water fountain that operates year-round (at the oval); several, but not all, port-a-potties remain open year round. Click the map to open it in Google Maps.

View as an interactive google map
Cautions: If you like crashing through the woods, keep an eye out for poison ivy, particularly on the sides of Schenley near 376. It has quite a bit. The major trails and carriage roads are wide and not a concern.
Short Schenley 5mi that starts out running along the railroad tracks. Starts under Forbes on Boundary st (the edge of campus where the railroad tracks start), wanders around Panther Hollow. This is the fastest way to get into Schenley from the west edge of the CMU campus.

Getting there:
Frick Park
Frick Park [wikipedia, official site], located east of Schenley (and CMU and Pitt), is a 561 acre park with miles of running trails. Frick is also renowned for its mountain biking trails and can make for very fun trail running if you head off the major dirt tracks. Frick is less developed than Schenley, and is larger, but is still only a mile and a half or so from CMU. There are more trails and fewer paved areas. You'll share Frick with more mountain bikers. Still not huge - you can explore large portions of the park in a 7 mile run - but nice. The Nine Mile Run restoration, completed in about 2009, added several additional miles of running.
Connection options:
Schenley Park via a 2/3rds mile run through Squirrel Hill.
Homewood cemetary is directly connected
Duck Hollow Trail via nine-mile run. For an adventure on a long (14+ mile) run, you can cross the Glenwood bridge from the end of Duck Hollow and meander down to the South Side Trail from there.
Seasons: Like Schenley; great in all seasons but can get icy in winter.
Facilities: Fewer than Schenley. Water and toilets available summers at the entrance near Beechwood Blvd, at the bottom of the Falls Ravine Trail, and a few other spots.
Frick-Schenley linkup base route - A nice base 8 mile loop on to which you can easily graft extra side runs through rick and Schneley. Variations on this loop are good for up to around 16 miles if you start out with an extended Schenley loop and take a longish meander through Frick or the Homewood Cemetary.

Getting there:

9 mile CMU-Schenley-Beechwood route - a 9 mile base route that takes you through Schenley to the Beechwood dr. entrance to Frick. This is not the most direct linkup (that's above), but it's a repeat-free loop that takes a different path.
A frick-schenley variant with ellsworth - Like above, but longer - maybe 13 miles, since I wasn't exact about the route through Frick. Lots of time on trails, though the Penn Ave bit has too many cars. Winter bathroom stops in schenley and water at the fountain by the schenley track (nice way to add .6 more miles), and also at the Factory on penn (where the climbing wall and co-op are).

Getting there:

Frick-river (warning) - Still working on this one, but it's got potential. Through frick, down to the Mon, along a the Duck Hollow Trail along the Mon. Hits a big industrial section that's kinda icky, and then back up panther hollow. Careful: After Duck Hollow, this route may pass through private railroad property. Exercise thought before running this.
Outside the City
North Park - About 13 miles away. An asphalt 5 mile loop plus some random trail bits and a golf course. (smile). The asphalt loop is kind of nice - lots of other runners, but isn't worth the drive. I found some nice traily bits that were pretty fun, but also ended up doing a lot of gruesome bushwhacking. There may be an optimal way to do it, I hope. Some nice hills..

Getting there: Don''t know. I went up the 19 truck route, which was *awful* on a Saturday afternoon. Traffic from hell. I came back via 19 normal to 279, which was okay, but kind of pokey.

The Montour Trail is mostly west/southwest of Pittsburgh, but provides a lot of paved and/or crushed limestone trail if you want to drive out to it.
Moraine State Park is about an hour drive north of Pittsburgh. It has lots of trails that run around the lake. I rarely go there, however, because of...
Raccoon Creek State Park, [google maps, or official site] about 45-50 minutes west of Pittsburgh (past the airport) has numerous options for great trail running, up to a roughly 20 mile loop that circumnavigates the entire park. If time permits, this is the place to go for away-from-the-crowds trail running. The bark is broadly divided in half, with a circuit around the east half (shorter), the west half (longer), or both (about 20mi). There's also swimming in the Main Lake there for a nice cooldown or triathlon workout.
South Park [see in google maps]-- no, Pittsburgh's south park, not the TV show -- is about a 30 minute drive (13mi) south of Pittsburgh. Quite a few running trails; a few local 5k and 10k races are held on the trails here. Not really worth the drive unless you're a local who wants more variety.
Want hilly trails? Riverview Park has them by the dozen. Located on the North Side (reachable as part of a pretty long run from CMU), this park is a bit smaller (287 acres) than Schenley, but it really brings out the 3D. You can run to there through the Uniondale and Highwood Cemetaries as part of a very nice run from the downtown area. Not as well developed or as populated as Schenley and Frick. [Trail map PDF]
Settlers Cabin Park is a familiar sight to anyone who drives to the airport very often. Located about 2/3rds of the way out, this park is surprisingly large (1589 acres), but it has only about 5.4 miles of blazed trails - the rest are a little sporadic and not always clearly marked. Navigation challenges make it more suited to a meandering run than a fast training run, but it's nice to visit at least once. [Blazed trail map]. A warning: In fall, the heavy leaf cover on the trails can make routefinding quite a challenge when running if you're anywhere off the (short) sections of marked trail.
Tracks and measured routes
CMU track (400m)
Schenley Park Oval Track (inner track, 400m).
Schenley Oval (outer dirt track, 1km).
Pitt's indoor 200m (approx.) track at the Fitzgerald Field House
(This is a Pitt facility, but I've run there several times without problems. Just be polite and make sure that one of the Pitt teams or clubs isn't already using the track...)
The Sewall Center at Robert Morris University has a short indoor track, but I don't know whether non-RM people can use it.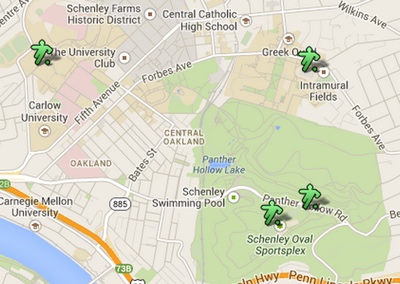 View as an interactive google map
Trail Conditions
Road and Trail Status
The Twitter pghtrails account maintains one of the most up-to-date references for not-quite-realtime trail status in Pittsburgh. More bike-oriented than run-oriented, but still very useful.
Run list by distance
Distance (mi)
Terrain
Route
4
Flat roads
Ellsworth-penn-5th
5
Trail, moderate hills
Schenley short loop
5.7
Moderate hill, roads
Ellsworth-penn-shady-forbes
6.1
Moderate hill, roads
Ells-penn-shady-schenley loop
7.1
Trail, moderate hills
Schenley extended loop
8-11
Run to frick, run in frick, run home
12
13
schenley-frick-ellsworth
Add a .6mi loop around the Schenley track for good measure.
Pittsburgh running groups
Well-known Pittsburgh Races
---
[angio.net] [running home] [personal] [climbing]
---